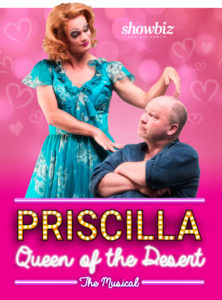 Love is love is LOVE this Valentine's Day!
WIN a double pass to Showbiz Christchurch's Priscilla, Queen of the Desert. All you need to do is:
– 'Like' the Showbiz Christchurch page
– 'Like' the Kineta Booker – Christchurch Celebrant page
– Tag in someone you love on my FB page! (If, like me, you love lots of people, tag them all! Just give each
❤ a new comment)
Here's a photo of Bernadette and Bob from the Christchurch cast
❤
Winner will be drawn this Sunday 19th February (cos it's really Valentine's week after all!) Good luck!