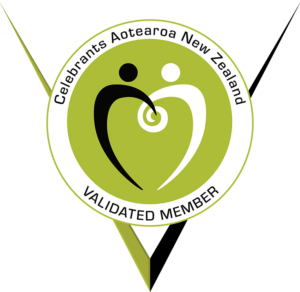 $90
So, you're wanting a straight-forward ceremony at your home or a local spot, with set vows and script? Done!
As an authorised VCANZ Registry Celebrant, I can do this for you. All you need to do is organise two witnesses, and your marriage licence ($150), and it will cost just $90 to have me as your celebrant. It couldn't be more simple.
Now that the Christchurch Registry Office (aka court house weddings) is no longer in operation – VCANZ celebrants are the only ones who can officiate this type of ceremony for you.
Please read these FAQs to make sure it really is a Registry Ceremony you're after.
---
Registry Office-Style weddings are available only on Mondays – Fridays during school hours, with a maximum of 10 guests, not on a public holiday.
You will need to apply for your marriage licence at least three business days prior to the day you intend to get married, but no more than three months before.
To book me:
– Go to https://marriages.services.govt.nz
– Click on the Begin new application "Next" button
– Click on "Registry ceremony"
– Click on "Next" button
– Enter a date within the next three months
– Start typing "Christchurch" and select it
– Scroll down and you'll see Kineta Booker
– Click my name and go from there!
For more information, please get in touch!
---
THINGS TO CONSIDER FOR YOUR REGISTRY CEREMONY
Vows: as well as the official script, these are set out for you.
Witnesses: you need to organise two witnesses. Both witnesses, as well as the two people getting married, must bring ID.
Paperwork: we will fill this out immediately following the ceremony.
What happens after the ceremony? Once the paperwork is completed, I will lodge your marriage with Births, Deaths and Marriages.
Wanting to organise a marriage certificate? Easy! There are three ways: you can order it at the same time as your licence; or once your marriage is registered you can order one online using RealMe; or you can order over the phone. Find out more HERE. Your certificate will be sent to you within 10 days of your marriage being lodged with BDM.
Choosing your venue: If you haven't chosen where you'd like to get married, here are some local options for you to consider:
Kaiapoi Band Rotunda, Trousselot Park, Charles Street, Kaiapoi
Scott Rose Garden, Trousselot Park, Charles Street, Kaiapoi (next to rotunda)
Kaiapoi Lakes and Wildlife Reserve, Williams Street, Kaiapoi (Lake Hutchinson – corner of Williams Street and Old North Road, Kaiapoi)
Kaiapoi Domain (meet at the Dale Street, Kaiapoi, entrance)
Bottle Lake Forest
Woodend Beach
Rangiora Band Rotunda, Victoria Park
Waimakariri River
Waikuku Beach
Pines Beach Forest
Always remember, if it rains, we'll need somewhere that has shelter.