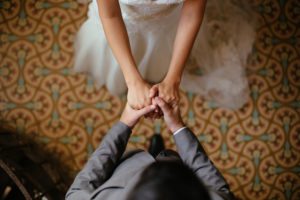 Public speaking is one of life's biggest fears, so it's no wonder many couples feel anxious when considering their wedding vows.
They're a significant part of the ceremony. It's often the only time the couple speaks to each other (other than the "I do's") during the formal part of the wedding.
Much of the anxiety comes from not knowing what to say to each other. Here are some tips:
The legal part: "I take you to be my husband…"

What your partner means to you

How your partner makes you feel

Some humour – if that's your style

Your favourite quote to wrap it all up
Many celebrants will aid you in writing your vows, or even offer a list of suggestions to take inspiration from. Remember, your celebrant is there to guide you, so don't be shy in asking for help.
If you're still feeling nervous about public speaking, embrace it. It's going to be one of the best days of your life, and many of us do it only once.
If you find that the "embrace" part still doesn't help, consider this: you're speaking directly to your mate, no one else. Feel excited that they'll finally hear the words you've pondered over and written just for them.
Written by Kineta Booker