Spring is here so wedding season has arrived!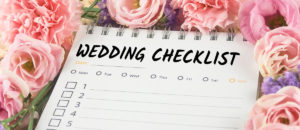 As a celebrant, what I'm hearing most from my couples is how they're feeling overwhelmed with everything they have to do.
My biggest advice: write yourself a timeline. My best tip: work backwards.
Timelines seem logical but you've got to actually start one for it to be helpful. The procrastination in starting one is where on earth to start, and that's why it's best to start backwards, at the bottom of your Excel spreadsheet.
For example, if there are things that need to be dropped off in the days following your wedding, such as props or glasses you've hired, they go at the end, then you work yourself up the document to today.
Consider things such as:
The time you have to leave the reception by?

How you're getting to your accommodation from the reception

What time is transport arriving to take guests home?

When is the band booked to play until?

When are last drinks being served?

What time would you like the first dance?

When will you cut the cake?

What time do you want the speeches to start, and who's speaking in which order?

What time is the dinner served?

What time do you want the guests seated by?

How long will you be away taking photos?

When do drinks and canapes get served?
The above list is an example of working backwards. Once you spend a good couple of hours doing this, you'll work up the Excel spreadsheet to the present day. This will save you a lot of time in overthinking so you can spend more time looking forward to your big day!
Written by Kineta Booker