What I offer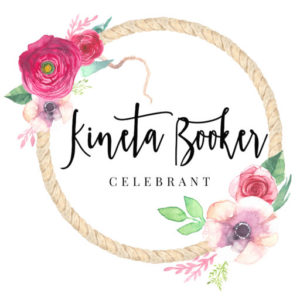 Each wedding is unique therefore I'll ensure your ceremony is a beautifully crafted original.
Wedding services I offer are:
An initial meeting to discuss and plan your ceremony
To book me as your celebrant, you can secure your wedding date with a non-refundable deposit of $185
From what you paint as your vision for the day, I will then set about creating your ceremony, and offering some advice and ideas. I can also help with your vows and give you some ideas for other things you might like in your ceremony, too
As many emails and calls with me as you need
Running the wedding rehearsal, or having a meeting in the week leading up to the wedding if you are not having a rehearsal. This is when the balance of my celebrant's fee is due
Conducting the ceremony, and use of my portable PA and mic if necessary
A keepsake certificate – with your witnesses signatures on it
A handmade ceremony booklet, created by me!
Elopements: I love them! Elopements are awesome. They're a bit different from a wedding with 80-odd guests, so none of the above really applies, and the fee structure is different. Get in touch, and let's get you hitched!
Please note: if your wedding is over 25km from my office there will be a travel charge, above and beyond the first 25km each way. This is charged at the current IRD rate.
It's also useful to note, weekday weddings are excellent, and on the weekends I prefer to book just Saturdays, as Sundays are family days with my husband and little boy. Thanks for understanding x
LINKS:
Married by Kineta website – kinetabooker.com
Kineta's Facebook – facebook.com/kinetabookercelebrant
The Department of Internal Affairs – celebrants.dia.govt.nz (Search: Kineta Booker)
Celebrants Association – celebrantsassociation.co.nz/author/kineta_booker
NZ Celebrants website – celebrant.co.nz/celebrant/kineta-booker-christchurch-celebrant
Brides Guide – bridesguide.co.nz/listing/christchurch-kineta-booker-celebrant