So, you picked up one of these glorious cards and you're considering taking up my (what can only be described as a blimmin awesome) deal from the Great NZ Bridal Show! Love it!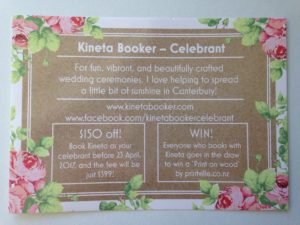 Here are just a couple of terms and conditions you'll be interested in:
To get $150 off, your wedding must be in 2017 or 2018
I need to be available on your date (as I only do one wedding a day, and generally do not take Sunday weddings)
As with my full-priced weddings, fuel charges still apply if over 25km from my home
And, finally, if you would like to utilise my PA and mic (which you can hire for around $200 from other suppliers) you can hire mine for the ceremony for $50
All bookings must be confirmed with me by Sunday 23 April, 2017
This promotion is only for new couples I meet at the Great NZ Bridal Show, not for the lovelies who have already booked with me. Thanks for understanding.
Painless Ts&Cs, eh!
Any further questions, just flick me an email: kineta@kinetabooker.com