About Kineta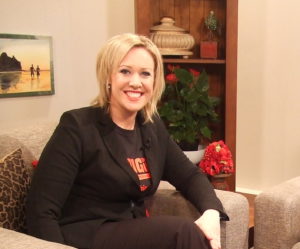 Kineta Booker started her career in broadcasting, straight out of high school, at Christchurch television station CTV. She worked for two years as a reporter and presenter before she was chosen to travel overseas as New Zealand's World Vision Youth Ambassador.
When she came home she worked part-time at CTV and part-time as a drama tutor at the Christchurch Drama Centre for another two years, before undertaking a degree in English and Theatre at the University of Canterbury.
While at uni, Kineta worked in promotions at The Radio Network, and once she completed her degree worked full-time as the network's promotions co-ordinator, producing the Saturday morning sports programme on Newstalk ZB, voicing a dozen radio ads each week, and updating the weather forecasts for the Canterbury area.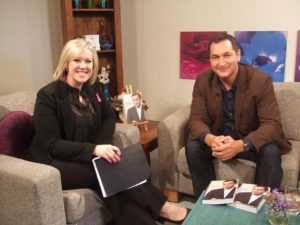 When it came to the point she couldn't get further in radio without a journalism qualification she applied for Jim Tully's post-grad journalism course at the University of Canterbury.
As soon as she was qualified, Kineta worked as news editor and journalist at Newstalk ZB, Greymouth, before moving to Auckland to work as a reporter at Radio New Zealand.
It was while she was working in Auckland that she was awarded the Robert Bell Traveling Research Scholarship from the University of Canterbury, when she moved to London to study the Digitalisation of Radio – Lessons for New Zealand. It was in London that Kineta became a freelance journalist, as, during the recession, it was the only way to get her foot in the door at UK media organisations. She worked for ITN, The Daily Telegraph, NZ Inspired magazine, TVNZ (when the All Blacks were in town), and as a travel writer for the Herald on Sunday.
She arrived back in New Zealand at the end of 2009 where, once again, she established herself as a freelance journalist as it was a great way to work with all the different types of media she enjoyed.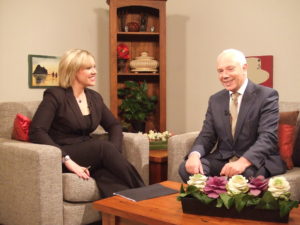 Kineta voiced local and national commercials at Tandem Studios, created and hosted an online video series for them (Fresh Ideas), edited a website for Parliament, and worked as their social media editor; wrote theatre reviews, creative arts pieces and technology articles for The Press; freelanced for the Herald on Sunday; was a journalist, producer and fill-in news editor for Newstalk ZB; voiced commercials for TRN and CTV, and a documentary for Paua Productions.
Finding herself too busy as a freelancer, and also being guided by her former journalism lecturer that freelancing was perfect for mothers (and has since found that this advice was bang on!), Kineta applied for a magazine editor role at a local lifestyle magazine.
The day she signed her contract with Mainland Press was the day of the February 22, 2011, earthquake. With most of her freelance work closed inside the city's cordons, Mainland took Kineta on earlier than planned and together they started the Rise Up Christchurch Facebook page – introducing people and communities who needed help to the scores of people willing to lend a hand.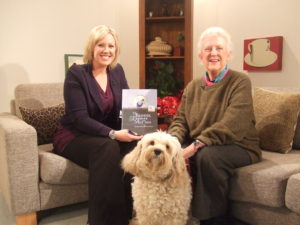 While editing CC magazine, Forward 50 (formerly Older and Bolder) Kineta was also asked to host Canterbury Life (formerly City Life) on CTV – a daily, one-hour television show which started soon after the February earthquakes, as CTV had moved into the Mainland Press building. It was created as a programme based around the Christchurch rebuild, interviewing all the decision makers, people affected by the quake, and others needing to get information across to the masses. After about a year it turned into a magazine-style show. She was the host of this programme for three years before taking maternity leave.
Because of the impact she made in local television, Kineta was invited to MC an event for Prime Minister John Key; host a live television discussion between CERA's Roger Sutton, EQC, and several heads of insurance companies; make a presentation to 'The Mad Butcher' Sir Peter Leitch from the people of Christchurch at a large event at the CBS Canterbury Arena; host television segments with Mike McRoberts in a live telethon for Christchurch – Rise Up; was invited to speak at a women's event hosted by Hon Nicky Wagner; and MC and host various events for other notable organisations.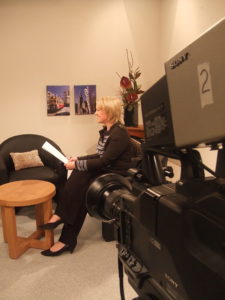 It was during this time that Mainland purchased the national title Weekend Gardener magazine (now Kiwi Gardener), and Kineta was the proud managing editor of it for three years, leaving only to take time out to have her little boy.
Having a child hasn't stopped Kineta's career progressing and, guess what – she's back freelancing, and loving it! In the past two years she has worked as the acting news editor at CTV, managing editor of Canterbury Kids magazine (before it was sold by its publisher), content producer/publisher, video host and COMMA podcast producer at Tandem Studios, writer at Canterbury Rugby, and working with various clients for their writing and communications.
Kineta is also a performer, theatre reviewer, and hosts an arts podcast (Backstage Podcast), dedicated to the entertainment industry and you can follow Backstage on Facebook and Instagram.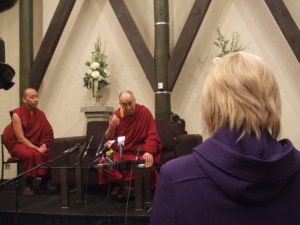 As a media professional, Kineta has moved seamlessly into working with individuals and businesses with their communications. It's her passion to ensure their story is told with accuracy and integrity, and has worked as the acting communications manager for The Court Theatre, and PR and comms for other small businesses.
Kineta is a confident speaker with the ability to help people relax around her and have fun. She also believes in a couple's commitment to marriage and civil unions, and that's why she chose to serve her community as a celebrant, as appointed by the Department of Internal Affairs. Kineta is also a member of the Celebrants Association of New Zealand.